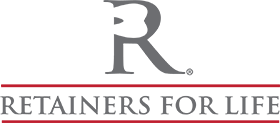 We are committed to growing and taking our high quality care to new levels beyond the completion of orthodontics. That is why we are excited to announce a game changer that prevents the shifting before it happens: Retainers for Life. Retainers for Life operates through state of the art technology for storage and fabrication of custom replacement retainers as prescribed to you by Dr. Courtright.
Through the Retainers for Life Protection Plan we now offer a lifetime replacement retainer guarantee that goes with you no matter where life takes you. We believe in providing you the tools for success and beginning October 2021, we will begin to incorporate Retainers for Life in what we do.
Patients in the Retainers for Life protection plan no longer need to come in for impressions to make your replacement retainers. You will be scanned using our iTero machine for an accurate 3D dental scan. No more extra orthodontic visits that require you to take time off work or school. You simply order online your replacement for as low as $39 and get it mailed to your doorstep.
Lets achieve your smile goals today knowing you now have protection that prepares you for what tomorrow may bring. If we learned anything in 2020, it was the fact that our patients need accessible patient care and solutions that can go with you. Together we can get to that beautiful new smile and together we can make sure your smile lasts you forever.
Maximizing your Retainers for Life Protection Plan
Be Proactive- Plan ahead and be prepared. Order a replacement to have on hand. You never know what life can bring. By being prepared, you will have your best foot forward.
Be Vocal- If you are a teen or parent of a teen, talk about what to do if its lost or misplaced. Teens in the program are more vocal with their parents when they need a replacement knowing they are protected for this very situation.
Be Connected- Whether you contact our office for questions or help, know also that we have representatives at Retainers for Life that are in continual communication with Courtright Orthodontics to ensure that you receive the best care out there.

Click here to visit Retainers for Life
If you are a current Retainers for Life member, please click here to order your replacement.